All about the parish council home page
parish council, home
OgImage:
Welcome to our Neroche Villages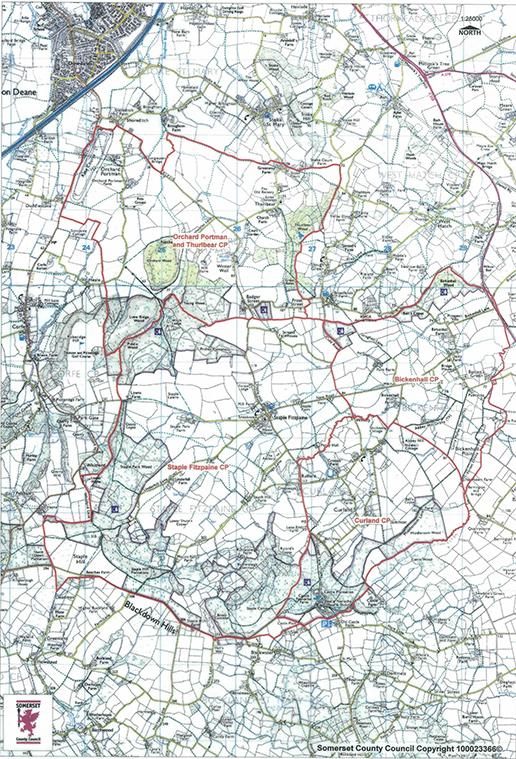 (Parish Boundary Map)
The Neroche Parish Villages of Bickenhall, Curland, Orchard Portman, Thurlbear and Staple Fitzpaine lie in rural Somerset, between the Blackdown Hills and Taunton. The area is administered by Neroche Parish Council, which give the website its name. There is no parish named Neroche.
This website includes the official website of Neroche Parish Council, the local government council for the civic parishes of Bickenhall, Curland, Orchard Portman with Thurlbear, and Staple Fitzpaine. Information about the council, meetings, planning applications and other matters are available from the main menu.
Our villages and hamlets lie in beautiful countryside with quiet lanes, public footpaths, bridleways and forests. Part of the area is within the Blackdown Hills Area of Outstanding Natural Beauty, as is Mount Fancy Farm Reserve, a butterfly conservation reserve, and Neroche Woodlanders, a social enterprise based at Young Wood.
Use the website to find out more about our community and for News, Events, Groups and other activities. There a link to Neroche Hall, our village hall. Our local businesses are listed on the businesses pages.
Acknowledgements: The Neroche Communication Action Group is a voluntary body working to maintain good communication within our parish. It produces the website, the Neroche Villages Newsletter and the Email Alert. These activities are funded from many sources. The website's contribution comes from donations, business advertising, and payment for maintaining the Neroche Parish Council website. We thank our supporters.